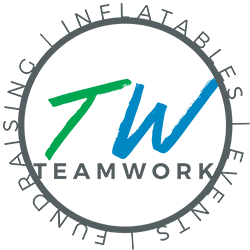 Fun, Easy
Profitable!




Are you here for fundraising? Or would you like to see our bounce houses?
Inflatables and Games for Rent
Here at Teamwork our goal is to make your event as fun and enjoyable as possible. We focus on allowing your party, event, or field day to have the most up to date inflatables and games. Teamwork provides the best activities, staffing, and service in the industry. Our team of skilled professionals will help you to plan your festival, field day, party, or company picnic.
Teamwork offers a ton of options to help get your party started! We specialize in inflatable bounce houses, obstacle courses, and giant slides. We also rent out other amenities and activities including spin art, snow cones, flying money machine, tee-ball, and sound system. We can also provide opportunities for your school, athletic department, band, or other organization to receive the fundraising that you need. Making money with Teamwork fundraising allows everybody to win!
Our staff is very friendly and hard-working. We have been in the business for decades and we've seen it all! Teamwork will provide your event with trained professionals to help make sure your party goes smoothly. Our staff loves what we do and we've never faced an obstacle we couldn't overcome!
Teamwork Associates is proud to serve all locations in central Ohio including but not limited to: Bexley, Gahanna, Grandview, Grove City, Groveport, Hilliard, Upper Arlington, Whitehall, Worthington, New Albany. We also offer out of town options for customers within fifty miles of Columbus, Ohio. Our business has been in operation locally in Franklin county for decades.
Groveport Madison Schools would like to express our sincere thanks for the use of your inflatable bounce house at our Field Day last Friday. The kids absolutely loved it. Your kindness is very much appreciated. We will be sure to refer you to others who may be interested in your bounce houses."
This company was amazing! I'm a parent and also the parent consultant of west mound and they came today and made the day great!!! Thank u for all you have done for us!!! We look forward to many more!!!
I wanted to tell you how amazing Gerald and his partner were, plus how great the inflatables looked! We were blown away by their professionalism. We got tons of favorable comments from the families. They did a fantastic job!
Thank you so much for coming out to our school on Wednesday the 10th! Our kids had a great time and your employees did a great job. My administrators, fellow teachers, parents, and students all had a great time, and your companies' performance was a great factor in the success of our field day. Thank you!